Flames engulf vehicles after a fiery crash along Interstate 75, Thursday, Jan. 3, 2019, about a mile south of Alachua, near Gainesville, Fla. Highway officials say at least six people have died after a crash and diesel fuel spill sparked a massive fire along the Florida interstate. (WGFL-Gainesville via AP)
By Lukas Mikelionis | Fox News
Five children from a Louisiana church group believed to be on their way to Disney World were among seven people killed during a fiery Florida interstate crash, state highway patrol has confirmed.
The crash occurred about a mile south of Alachua, near Gainesville on Thursday after a big rig and a car collided in the northbound lanes of the highway and went across the guardrail into the path of another big rig and a church van in the southern lanes of the highway.
"Once those semis struck, they both caught fire," Lt. Patrick Riordan said during a press conference. Amid the fire, fed by about 50 gallons of diesel, a fifth vehicle hit people who had been ejected, he added.
The police confirmed that six to eight people were hospitalized due to injuries.
The children were as young as eight, police said, and were from a Louisiana church group in Avoyelles Parish, Louisiana.
A representative of the Avoyelles House of Mercy told The Town Talk earlier on Friday that members of the group were indeed involved in the crash, but didn't reveal more information.
The authorities are treating the crash as a homicide investigation, though it remains unclear the reasons why.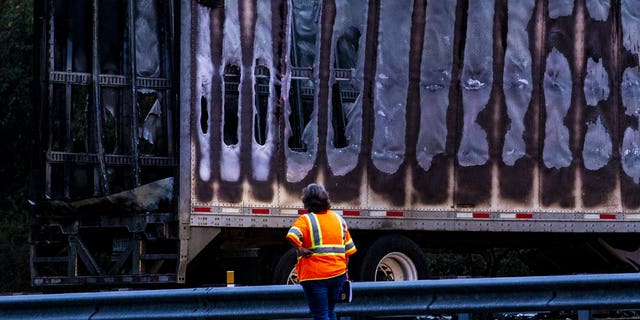 Some people passing through the interstate described some of the scenes after the crash. Nicole Towarek, a student who was on a holiday trip from Fort Myers to Atlanta, told The Gainesville Sun that the scene completely changed after the crash, with black smoke billowing and people being laid out near vehicles.
"We kept seeing these little explosions and fire," she said. "The heat, it was insane."
"We kept seeing these little explosions and fire. The heat, it was insane."

— Nicole Towarek
A spokesman for the Florida Highway Patrol told the Associated Press that the top priority at the moment is to verify the deceased victims. It remains unclear if the victims died as a result of the crash or the fire that came after the collision.
"There's going to be families that need to be notified that their loved ones have perished," said Lieutenant Patrick Riordan.
FLORIDA INTERSTATE CRASH KILLS AT LEAST 7, INJURES 7 MORE
Riordan previously told the Sun that some of the fatalities "were in at least one of the passenger vehicles."
The Alachua County Sheriff's Office dispatched earlier a helicopter to look for potential victims in the woods off the highway.
Thursday's crash was the worst incident on the interstate in Alachua county since January 2012 when 11 people died in a crash.
Following the crash, officials at the time installed cameras, sensors and large electronic signs to prevent crashes like that from ever happening again.
The Associated Press contributed to this report.